Part 3 - Component by Component
3. The fuel tank
It is strongly urged that the engine's integral fuel tank be removed. If this is done then the engine must be fitted with a suitable cover. A standard centrally-mounted fuel tank should then be used, unmodified and this tank and its mounting must be in accordance with manufacturer's instructions.
The capacity of this tank must not exceed 7.5 litres, if used for endurance events. Ballast may be added to the tank in order to maintain the maximum capacity. In this instance the kart may be fitted with a pulsed fuel pump(s), which will take a vacuum feed from either the governor rod hole or one drilled in the inlet manifold, tapped to accept a vacuum fitting. Fuel pipes must take a direct route to the carburettor and be safely secured. An extra loop of fuel pipe may be used as a return feed to the tank. One in-line fuel filter of nominal capacity per engine may be fitted, whose dimensions do not exceed circumference of 10cms and length (excluding stubs) of 5cms.
4. Exhaust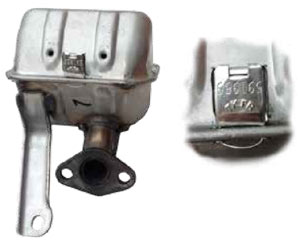 4. Exhaust (For Honda Cadet the only exhaust permitted is the DEP001. When using this exhaust it is recommended that a captive nut type of fixing be used to secure the exhaust. No attempt should be made to alter its appearance, it must have the same textures and manufacturing marks on it as originally supplied. The flange plate must be a minimum of 4.7mm at all points. The heat shield is an integral part of the exhaust and must be in place at all times. See Appendix 7)
The standard exhaust must be used but a unit modified and sealed by an Agent may also be used. In this case, the unit will bear a seal applied by an Agent and it is the competitor's responsibility to ensure this seal is in place at all times. At any time the modified unit on the engine can be exchanged with one held by the scrutineer, who will then send the competitor's exhaust back to an Agent for inspection. If this unit is found to have been tampered with in any way, then the competitor will be penalised retrospectively. No other repair or modification is allowed. Exhaust, Part No 18310-ZH7-V90 or 18310-Z4M-010 can also be used, and modified as above.
The Agents currently are: Focus Racing (0178 737 6655) and 7Kart (0192 083 1000)
The heat shield should be in place at all times. Where the original fixings have failed, they can be replaced with a rivet-type thread repair, which can alternatively be welded, in original position.